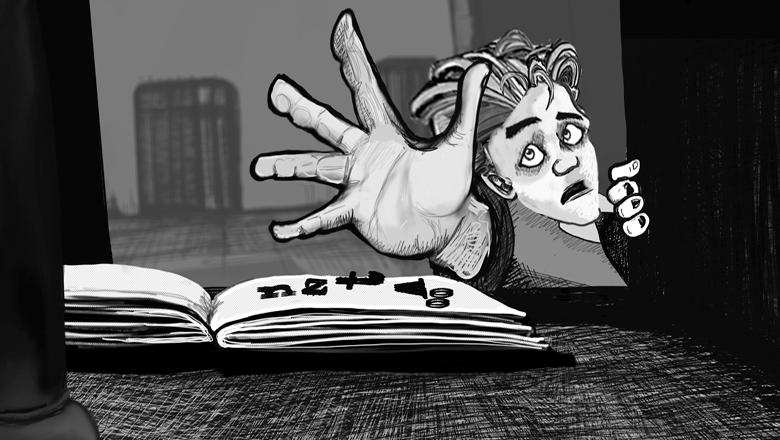 The film
VOLUME by Arturo Bertusi
Animation –  7'39"
Festivals and Awards
2015 Animaze – Le MIAFF: Montreal International Animation Film Festival
International premiere – Montreal (Canada), april 18

2015 Future Film Festival
National premiere – Bologna (Italy), may 9
2015 Athens ANIMFEST – "Marathon"
Athens (Greece), march 26 – april 1
2015 IndiEarth Animation Film Festival
Chennai (India), june 26 – 28
2015 Catalyst Communities Film Festival
Lincolnshire (UK), july 4 – 5
2015 NYC Independent Film Fest
New York (USA), october 12 – 18
Credits
From an idea of
Arturo Bertusi e Antonio Bagnoli
Subject and scriptwriting
Licia Ambu
Arturo Bertusi
Marco Melluso
Diego Schiavo
Director
Arturo Bertusi
Character designer and animation
Ivana Pistorozzi
Musics
Andrea Vanzo
Clarinet
Marco Zanardi
Sound project
Diego Schiavo
Production
Giusi Santoro
Researching drawings
Silvia Bolognesi
Leila Mattioli
Clean-up artist
Carmine Vitolla
Sara Passuti
Production assistant
Laura Cristina Frontera
Editing
Giusi Santoro
Video optimization
Andrea Dalpian
Press office
Valeria La Pietra
Produced by
POPCult and Chiaroscuro Creative
With the support of
Emilia Romagna Film Commission

More info
2015 Animaze – Le MIAFF: Montreal International Animation Film Festival
International premiere – Montreal (Canada), april 18

2015 Future Film Festival
National premiere – Bologna (Italy), may 9
2015 Athens ANIMFEST – "Marathon"
Athens (Greece), march 26 – april 1
2015 IndiEarth Animation Film Festival
Chennai (India), june 26 – 28
2015 Catalyst Communities Film Festival
Lincolnshire (UK), july 4 – 5
2015 NYC Independent Film Fest
New York (USA), october 12 – 18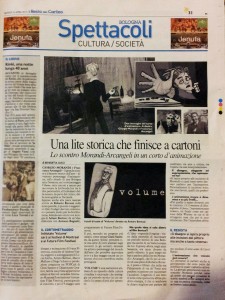 It's a fresh sunny morning in Italy.
Francesco Arcangeli is walking along the colonnade in Bologna city, he has under his arm a copy of his manuscript.
He's just finished writing the most arduous work of his life, after eight years!
Now the painter Giorgio Morandi, who Francesco Arcangeli admires immensely, has to know about his script.
This volume describes Giorgio Morandi's art…
NOTE OF ARTISTIC INTENT
Volume was inspired by the play "Words, silence, pain" by Roberto Roversi.
This short film is about the story of a furious argument between the painter Giorgio Morandi and the critic Francesco Arcangeli, a fight that marked both their lives; in particular, it's said that Arcangeli fell later into a deep depression from which he never recovered. Although it's a conflict, a clash of this kind still generates new dynamics. Those which are a perfect representation of a universal and timeless theme, namely the confrontation between art and criticism, between the work and its interpretation.
This story, happened more than forty years ago, its "pretext" is to recount an era in Bologna's city life, which now seems very distant, in which artists, intellectuals, students and the public met (and clashed at times) in an atmosphere of great cultural vitality. Today it seems rare that such an event could occur, especially as it became known as a topic which was discussed in the squares and meeting places of the city, almost like a contemporary "gossip", but with a very different content. We liked the idea of ​​remembering that time, but without criticizing the current situation, and without too much nostalgia, so that it resulted in a perfect episode.